I kept busy at the U.S. Green Building Conference and Expo, which was in town. While I was cruising the tradeshow floor looking for the latest developments in sustainable technologies, a young man walked up to me and said: "You are behind on your blog."
Was I surprised? Hell yes! Did I get the hint? Let's say yes to that one too.
Two weeks ago I talked about the service desert. The subject for today is about another service, the electrical main service.
The old main service into the house was a 100 amp line feeding three meters and subsequently three breaker panels in the basement.
The wiring in the panels was – let's say – creative, and not necessarily safe. I had everything disconnected relatively early on. Later on, Cathy discovered the wire that was not running through the meters or breakers, but came directly from the main service.
It's time to replace the existing setup with a new main service to a bank with four meters (garden unit, 1st floor, 2nd floor and public areas) and new breaker panels.
There was some confusion to whether we need a 200 amp or 400 amp main service to the meters. The electrician recommended a 400 amp main service for three 100 amp panels and one 60 amp panel for the public areas (totaling 360 amp).
The design documents specified a 200 amp main service, as it is highly improbable that the users in all three units would ever get enough appliances going to get close to a 360 amp load. This is particularly true since our goal is that of energy efficiency and conservation.
The case was quickly settled by the building inspector, who has the last say in these things. I learned that 100 or 200 amp service to buildings like ours is typical. If anyone would like to install a main service larger than 200 amp, the building department requires a load schedule that lists all points of electrical use for each unit and their estimated electrical load.
With that clarification at hand and our goal of minimizing our electricity consumption we eventually got the 200 amp main service installed.
Moving on into the basement, we have the panel for the garden unit and the public circuits located right behind the electrical meters on the outside.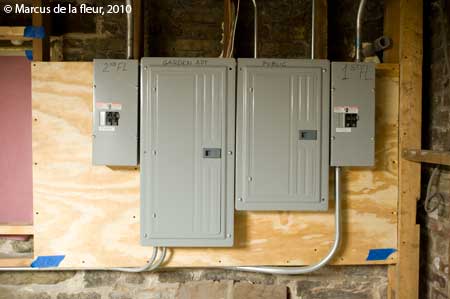 The other two panels are placed on the 1st and 2nd floor for easy and convenient maintenance access.
This layout does require us to install two disconnects to the 1st and 2nd floor in the basement (see image above).
We now have established electricity to the breaker panels. The next step is to run conduit and cables through each unit.