While pouring the concrete for the new bathroom floors, I had to make sure I get the floor elevations right.
We want the floor at the exact same elevation and dead level around the bathroom perimeter. To guide me, I marked the finished elevation along the room edges.
Then there is the toilet flange and the two floor drains. One is the general floor drain, the other is the drain for the walk-in shower.
The day before we poured the concrete floor, I set the flange and two drains to the final elevation. The toilet flange is set just a notch below the perimeter elevation. The two floor drains are set one inch lower to have a positive slope.
If you look carefully you can see that I put two string lines across the bathroom to guide me during the concrete pour.
The lines basically divide the floor into three zones:
Almost level with a very slight slope to the left
Slopes towards the general floor drain
Slopes towards the shower drain
The ridge between the general floor drain and shower drain is important. It contains the water in the shower area, while keeping the rest of the bathroom dry.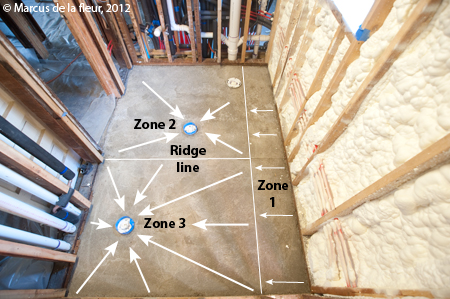 If you wonder why we installed a general floor drain in addition to the shower drain,  read the post 'Problem area bathroom' and 'Bathroom basics'. You find our reasoning described there.