Back last summer, we were lucky – very lucky. We found a set of used kitchen cabinets at the ReStore. The cabinets were of quality plywood construction and in excellent shape.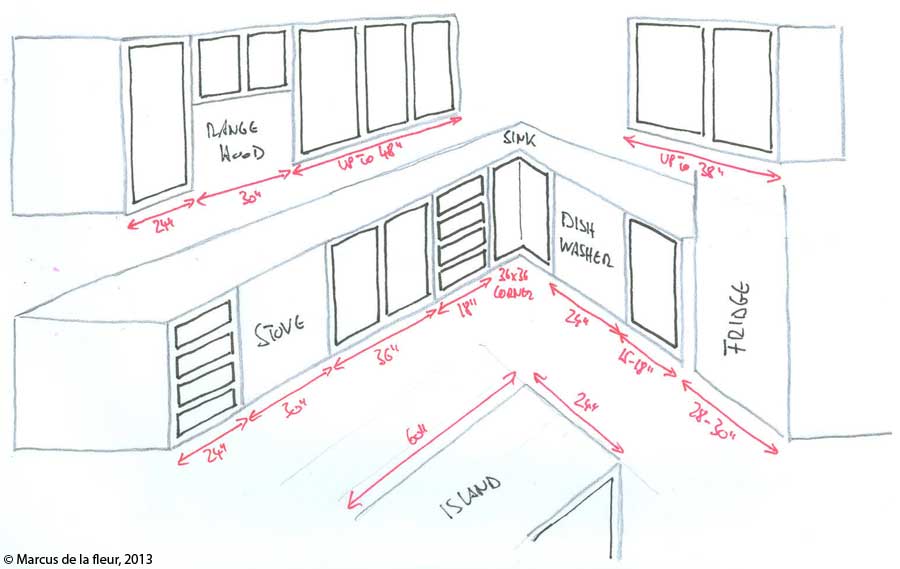 I always had a cheat sheet on me with the desired kitchen layout and cabinet dimensions. Finding a set of used cabinets with the right dimensions can be tricky. Nevertheless, we were lucky that one summer day.
We are now along far enough in the kitchen to dust of the cabinets and bring them down from the second floor where they were stored. With the cheat sheet in hand, we began to install the base cabinets.
The kitchen layout was driven by the location of the range hood and stove. Because of the existing chimney in the kitchen and the location of the window, the range hood and stove location were more or less predetermined. What I mean by this is that the range hood should exhaust a safe distance from the window to prevent cross contamination. That put the range hood south of the existing chimney.
To maximize the amount of counter work space, we came up with the idea of a corner sink. It would give us enough work space on either side of the sink. The logical location of the dishwasher was next to the corner sink, backing up against the utility wall. That left us with the refrigerator at the end – or beginning – of the L-shaped layout.
Because Cathy and I are pretty tall, we decided it would be nice if we could raise the countertop height just a little bit. Not too much, just a notch.
To get us there, Drew and I installed a set of 2 by 4's flat across the cabinets. They helped us to tie the individual cabinets together, provide a sound structure for the countertop, and raise the countertop height by 1 1/2 inches.
We placed pieces of 3/4 inch plywood on top of the cabinets, to support the countertop. The counter will extend one inch beyond the plywood, so that once installed the plywood edge will be hidden.
Related blog posts: