Our new back porch needs a roof!
During construction, we got as far as the 2nd floor level when I had to hit the pause button. Several rows of loose brick needed my attention, followed by masonry repair atop the south wall.
Building the porch roof followed a now familiar pattern: getting stairs and landings in place, putting up ledger boards, installing joists, covering everything with plywood and installing the roofing system.
What was much more interesting was the staircase extension to the roof level, because it was about the devil and the details. I wouldn't have minded a little break for the few neurons I have left – some mindless work. SOL!
Roof slope
The roof access extension has a south facing sloped roof. This will be prime real estate for solar renewables. Solar hot water panels should be installed at a 55 degree angle. Photovoltaic panels are more fussy. They like a 66 degree angle in winter, 42 degree in spring/fall and 18 degree in summer.
Now think about these numbers for a minute. This roof could turn into a really interesting art project, making Frank Gehry look pale. But I don't have a minute, and my neurons are not firing right.
So, how do we determine the roof slope? Not through solar angles, but by the means of dimensional facts. We can extend the roof access by ten feet above the existing roof, and we need to make sure we have enough head room (says the tall German).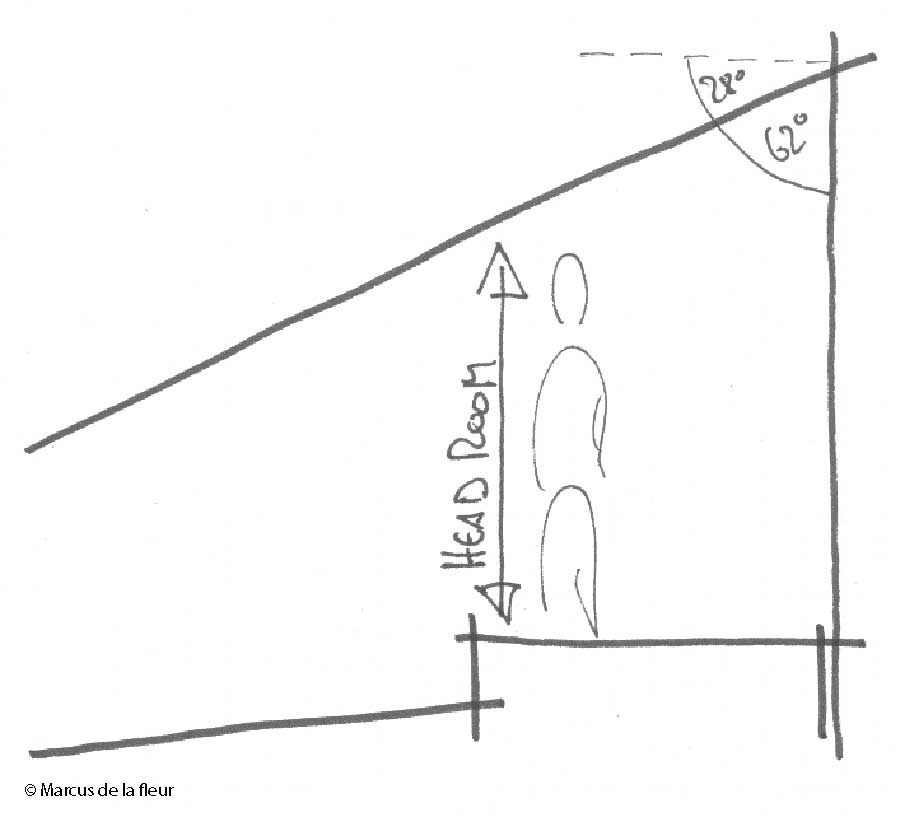 End result: A 28 degree roof slope.
Roof drainage
Drainage is following me around. It often dominates my professional life, which I don't mind at all. And in a gravity defying stunt, it was following me all the way up onto the roof – which also has to drain. Surprise!
Whereas previously the entire south edge drained the roof, almost half of that edge is now blocked by the new roof access. I had to make sure we had a tall enough curb to direct roof runoff around the extension. The alternative was to have a waterfall feature cascading down the porch staircase … a charming idea with a lifespan of microseconds.
Redirecting the roof runoff by means of a two by eight, which we set on the roof deck between the two posts, sounded much less adventurous. Good – give boring a chance!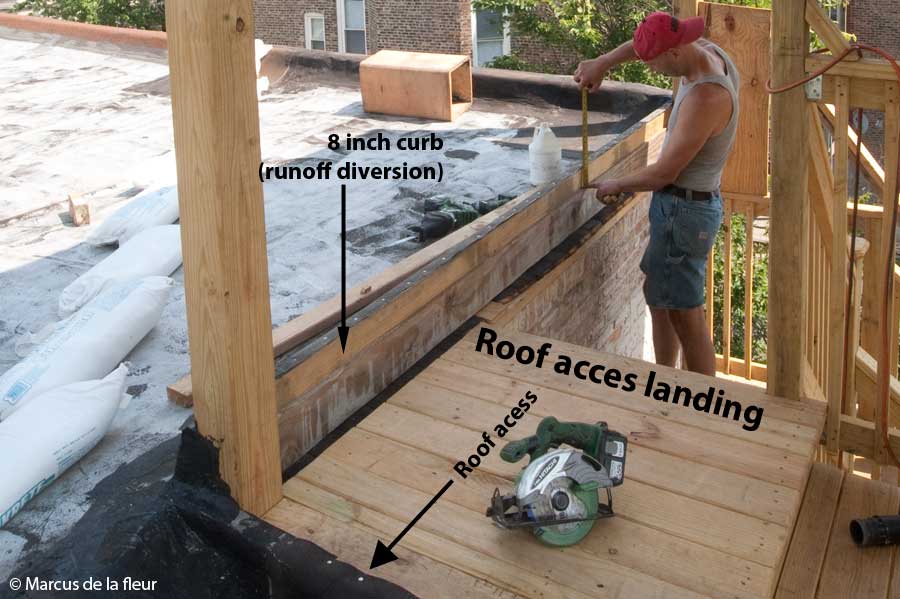 Roof access
Ease of access was another issue. The options my porch builder and I discussed all involved a rather tall door threshold. The thought of stepping six or eight inches up and through the door generated mental scenarios of tripping and falling onto the roof. That's not a place where you want to trip.
So, we built a little square landing atop the roof framing to get us to an elevation where I could walk out the door with a normal threshold and step down onto the porch roof. That stepping down seemed less of a tip hazard. Subjective? It is.
This all took some tinkering, because the roof framing has a slope while the landing has to be level.
Finishing touches
Our porch builder finished his job by installing the gutters and downspout, and the last heavy duty hardware items. This porch is built so solidly, I could park my truck on it – if only there would be a way to get it up there.
This back porch is a head turner (just ignore the piles of construction materials). Cathy and I are very happy with the end product. Our porch builder, Espinoza Construction was very good to work with, easy to communicate with and Edgar and his crew were always thinking a step or two ahead. We are impressed with the quality of work they delivered. Not only that, but they also put up with me through the entire process, which is possibly their biggest achievement.
Related posts: