Thermally speaking, our staircase from the front door to the 2nd floor unit is "un enfant terrible."
Because of dimensional deficits due to the existing staircase, the envelope insulation along the 1st floor level solely consists of two inches of closed cell spray foam.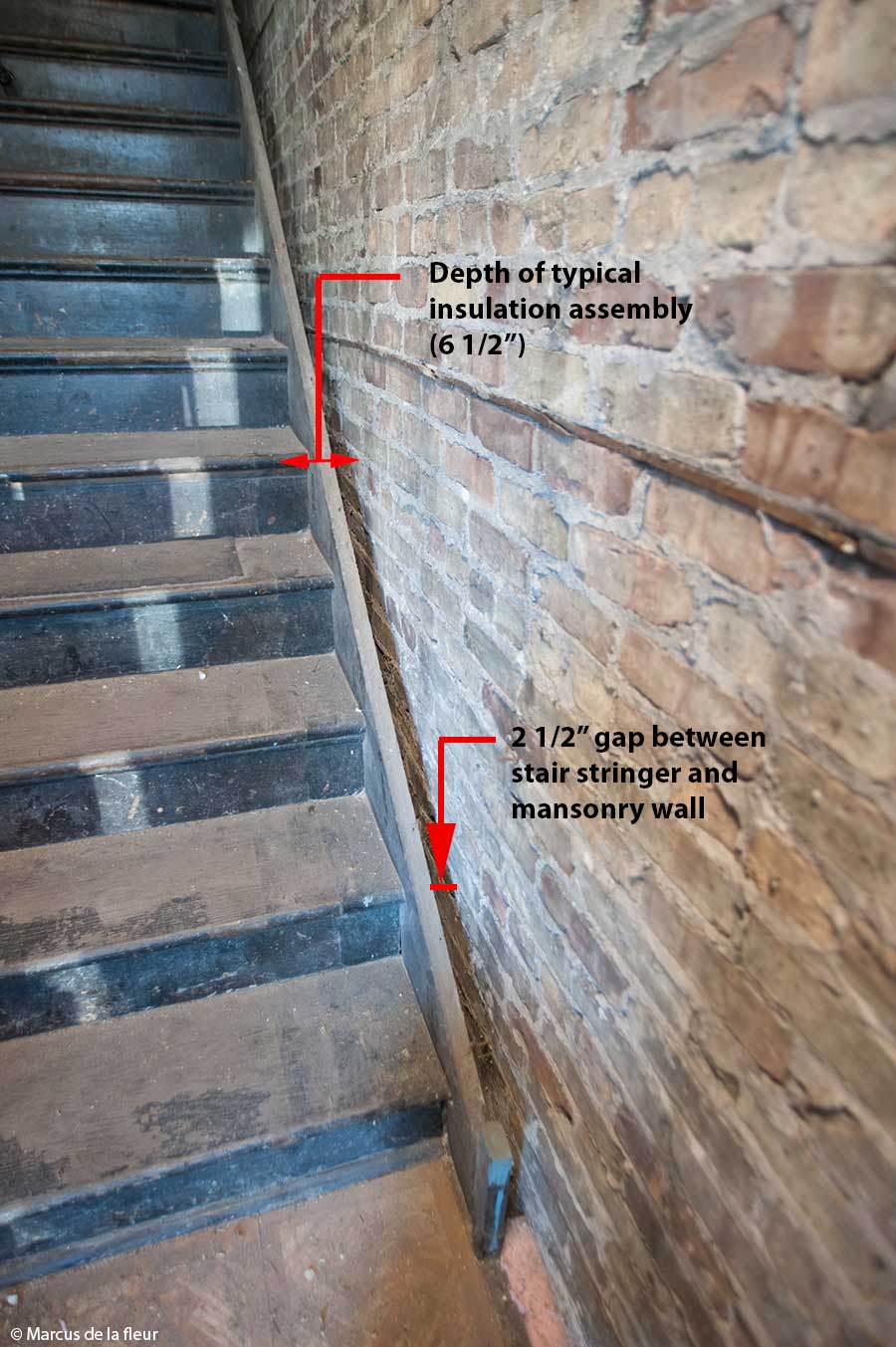 This may sound pretty potent to some, but with a wall insulation goal of around R24 to R30, two inches of closed cell foam is merely mediocre. The staircase will always be cooler in winter and hotter in summer than the adjacent interior spaces. Because it's a transit space it doesn't matter that much, with the exception that it has a negative impact on the thermal load of the adjacent rooms.
To solve this shortcoming, we separated the entire staircase into its own thermal unit that gets insulated on all sides. This in combination with air sealing should compensate for the inept exterior insulation along the 1st floor level.
To get there, we installed two inches of the closed cell foam along the 1st floor and 2nd floor exterior walls.
Because the exterior masonry wall on the 2nd floor narrows from three to two wythes, we ended up with enough room to switch from the 1st floor furring strips to regular framing along the 2nd floor level. We filled all those framing cavities with rock wool, adding another R15 insulation value.
To stay with the seamless thermal separation we filled the ceiling joist cavities with rock wool…
… and all framing cavities of the flanking interior walls.
Thermally isolating the staircase by surrounding with with an added insulation value of R15 (less at the framing studs) wasn't the ideal solution, but given the restrictions, it was the most practical process towards minimizing thermal inefficiency.
Related posts: