Late last year I re-pointed (or tuck pointed) some areas of the interior brick wall on the first floor. It was only necessary where I had localized moisture damage.
I am now moving down one floor, into the basement, where the moisture damage is much more wide spread, and as such a lot more re-pointing is needed. There are two general kinds and causes of moisture damage.
The soaked wall
A part of the front basement wall was completely soaked. The source for all the moisture was a disintegrated roof drain that must have had water running down the brick work for years.
Having had the wall open and exposed for a few months now allowed some of the moisture to dry out. Still, we will need to re-point this entire wall section.
Sorry – no images of raking out the joints with the angel grinder. Too much dust for the camera to handle.
Parging trap
The rest of the re-pointing work was limited to the lower section of the brick work in the basement. Above that, the mortar is in pretty good shape.
The line between deteriorated joints and sound mortar coincides with the cement parging on the outside of the building.
The parging acts like a vapor barrier or vapor retarder and only allows the brick work to dry out towards the inside of the building. This one directional drying process is not very effective and will cause elevated moisture levels in the masonry. That in turn led to the deteriorated mortar joints on the inside.
Re-pointing these lower sections of the brick work around the basement is only half the remedy needed. To fix the elevated moisture levels, we will need to let the wall dry out into both directions – we will need to remove the cement parging on the outside wall.
Why is the parging there in the first place? Well, it is one of those 'sweeping it under the carpet' issues. Rather than fixing a problem, it gets covered up.
The problem here was water damaged brick above the limestone foundation.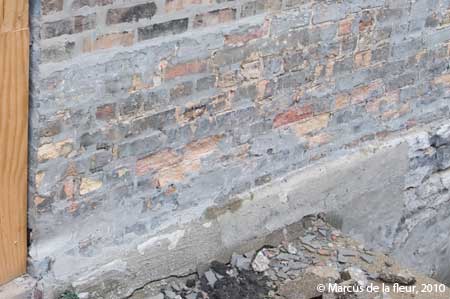 The solution was and is to replace the brick, keep moisture away from the wall, and let it dry out in both directions.
Hmm, sounds like another interesting masonry repair project, doesn't it?