I have learned a lot about masonry and its inner workings. One lesson I took home is how cement parging can ruin common brick.
Cement parging traps moisture, which then begins to deteriorate the brick over time, because it cannot dry out. The deterioration may manifest itself through freeze-thaw damage or spalling caused by efflorescence.
That is the theory and it makes sense. But I had the privilege, if you will, of witnessing the theory confirmed on our own building.
I wrote about moisture damage in the basement that was associated with the exterior cement parging, which led to the need for re-pointing. That parging covered the bottom two feet of the east and west elevations.
The darker spots on the parging are evidence of trapped moisture. The brick above the parging deteriorated under the pressure of moisture from below moving up and dissipating outwards.
We are about to install Spray Polyurethane Foam (SPF) insulation in the basement and there is a level of urgency to get the masonry moisture problems fixed. In short, the parging had to go … and we began to chip away.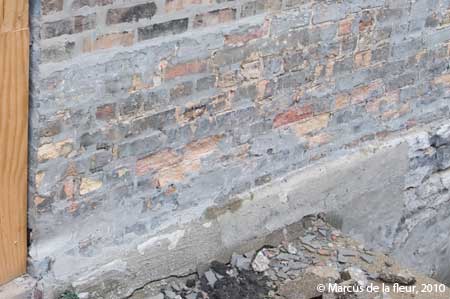 Based on the uncovered deteriorated brick, we concluded that the parging was installed to cover it up minor damage. It's one of those 'sweeping it under the carpet' things.
That brick elevation is three wythe wide at the bottom of the building. The inner wythe, facing the basement, was recently repaired and the middle wythe is still intact. The outer wythe needs our attention.
Ironically, the brick repair needed before the parging was applied was relatively minor. Now, with the extended deterioration, we have to replace the entire out layer or wythe.
I initially intended to leave this job for next year. But looking at the mess day in and day out became unbearable. I purchased good quality reclaimed common brick, but rather than having fun replacing the brick myself, I opted for enjoying the brick being replaced by someone else. I found a mason that had time to squeeze us in before it gets too cold.
With the intent to restore moisture balance and drying mechanisms in the mass assembly (the masonry wall), it is important to keep an eye on the following factors:
Match the original mortar (in our case Type O mortar)
Make sure that all bricks get thoroughly soaked in water to get the best bond to the mortar. If the brick is too dry, it will suck the moisture out of the mortar, which compromises its bonding strength and caused small fissures through which water may enter the assembly.
We are happy with the results. The building looks again like a house and not any more like a crumbling shack. And believe me; I now sleep much better at night.